Reverse osmosis (RO) pumps & Sub-sea pumps
Fluidtech also offer a range of reverse osmosis (RO) pumps from 50 to 700 US gpm (190 to 2660 lpm) at pressures up to 1200 psi (80 bar). The fuidhead is manufactured in duplex stainless steel for long life and durability.
Sub-sea pumps designed by Jetech to run in sea water at depths up to 10000 feet (3050 meters), where the sea water provides the lubrication for the crankshaft & bearings, ie; no polluting oils, with ows from 3.5 to 40 US gpm (13 to 150 lpm) at pressures from 5000 to 40000 psi (345 to 2760 bar). Please contact us for more information on this innovative range of plunger pumps.
Hydro-blasting pump features
Heavy duty skid mounted triplex and quintuplex plunger pumps

Diesel driven or electric driven options

Single cylinder plunger assembly with one piece double acting valve cartridge

Fewer moving parts compared to many conventional plunger pumps

Plungers and packings can be serviced individually

Fluid head does not have to be removed for servicing of plungers and valves

Easy on-site maintenance

Most diesel engines with mechanical governors ie; no electronic systems

In-built diesel tank for 12/24 hours operation

On-board water tank with low water level safety cut out for pump protection

Power transmission directly through in-built gear box, models 50 TJ3 to 350 TJ3

Conversion kits to convert the pump pressures from 5000 psi to 40000 psi (345 bar to 2760 bar)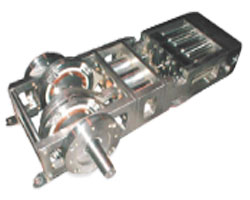 Sub-sea pump