High Pressure Pumps
​
High pressure cleaning pumps
High pressure water jetting pumps
Development, design, build and sales of high pressure positive displacement pump sets in diesel engine or electric motor driven configurations to cater to the requirements of Marine, Oil & Gas, Petro Chemical and General Industrial sectors.
Fluidtech is the authorized distributor of Pratissoli pumps in the GCC, for their range of high pressure triplex plunger pumps, accessories and spares. High pressure pump units are offered as skid mounted or trailer mounted options depending on the site requirement. Pressure ratings of these pumps starts from 50 bar to 1400 bar (725 psi to 20000 psi) and the discharge flows range from 6 lpm to 480 lpm (1.6 US gpm to 126 US gpm). The units are very compact in size and are suitable for most of the industrial cleaning and heavy duty water jetting applications.
Hydro jetting units are available for single gun or double gun operations with unloader valve and dry shut gun system. The dry shut gun configuration prevents dumping water at site while the trigger is released and thus avoiding wastage of water. This is especially important when working inside tanks and enclosed areas.
A range of skid mounted hydro jetting units with experienced hydro jetters and pump technicians are available on hire basis to meet any immediate requirement.
Pump skids can be fitted with chalwyn valve, spark arrestor and battery isolator to meet the semi-hazardous safety standards of oil and gas field applications.
Some of the latest additions to the Pratissoli range of pumps include Piston Pump Series M Line which have been designed to handle drilling fluids, muds, slurries and dense mixtures for a variety of applications in the Mining, Chemical, Oil & Gas Industries. Performances range from 35 lpm to 396 lpm (9.3 US gpm to 105 US gpm) and pressures up to 90 bar (1300 psi).
Recycled Fluid Series Pumps are suitable for charged water with particles size up to 200 micron and up to 20% concentration in the water. Due to the special packings the pump can run dry without any damage for up to 30 minutes. Performances range from 100 lpm to 480 lpm (26 US gpm to 126 US gpm) and pressures up to 250 bar (3600 psi).
Stainless Steel 70 Series version AISI 316L pumps and AISI 420 pumps with performances ranging from 30 lpm to 170 lpm (8 US gpm to 45 US gpm) and pressures up 250 bar (3600 psi).
Stainless Steel N Series Pumps have duplex ASTM block style manifolds. Performances ranging from 74 lpm to 388 lpm (19 US gpm to 102 US gpm) and pressures up to 400 bar (5800 psi).
Please contact us for your specific pump performance requirements.
Applications
Marine growth removal
Surface cleaning
Scrabbling of concrete surfaces
Boiler cleaning
Heat exchanger tube cleaning
Drill pipe cleaning
Drainage cleaning
Tank cleaning


Note: Please visit www.fluidtecheng.com for the complete range of high pressure pumps and accessories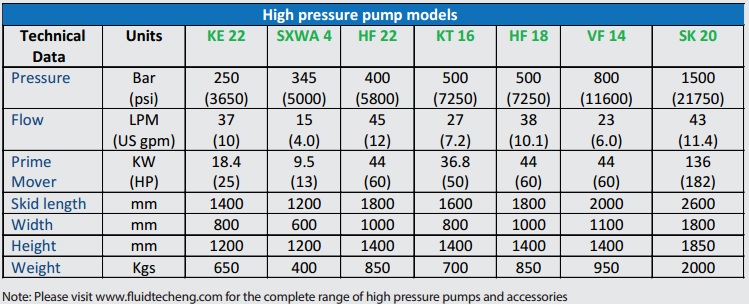 High pressure pump set features
Diesel driven and electric driven options
Single gun and double gun congurations
Triplex pump with fully ceramic plungers
Direct coupling through gear box
Built-in fuel tank for 12 hours operation
On-board water tank with low water cut out
Stainless steel/powder coated control panel
Compact and heavy duty design
Un-loader valves on some models
ATEX certied models are available